Mar 19
23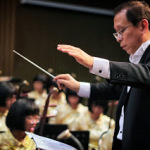 SMJK Jit Sin Bukit Mertajam students conduct a Chinese orchestra performance with the theme of Immortal Euphony《凝声御曲》at Dewan Sri Pinang in George Town, Penang.
The auditorium came alive with the spirit and beauty of music from traditional Chinese instruments played by 150 orchestra members. The musicians performed 10 memorable songs throughout the two-hour concert.
United Sweethearts Garment Sdn Bhd had generously contributed RM3,000 to support for the activity.