Sep 18
28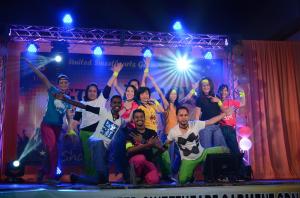 USG's "Let's Rock" Nite 2018 was held at Sungai Bakap Packing Loading Bay on 28 September 2018 at 6.30pm – 10pm. KFC & Vegetarian Food Packages were served to all employees prior to the event.
Some fortunate employees walked away with the Lucky Draws prizes. The event started by two lovely EMCEE ie Manjulah A/P Nagalingam and Roslinawati Binti Mehat.
Mr. WKOng had given a opening speech, then follows by the opening dance performed by mixture of different department employees.
After that, it continues with "Singing Competition", "Fancy Dress Competition" and "Dancing Competition". Nearly to the end, while awaiting the result announcement of Dancing competition, audience are invited to play stage games.
Everyone was enjoyed at that night and reluctant to see it ended.
The Followings are the winners of the competition:-
Singing Competition:-
Champion : JM Nishantha Jayalath Jayasinghe
1st Runner-up : Mohan Darji
2nd Runner-up : Bikash Chettri
Fancy Dress Competition:-
Champion : Lee Yam Chee/ Lim Soo Suan
1st Runner-up : Ong Siew Yu/ Law Pao Chim
2nd Runner-up : Ng Jen Nee/ Noorhafizah Bt Ismail
Dancing Competition:-
Champion : Chhatra Bahadur Darji (Arkas) & Group
1st Runner-up : Dan Isaac A/L Henry & Malani A/P Pushparaja
2nd Runner-up : Jamiudin Ali
4th prizes : Azira Bt Johari & Group
5th prizes : Bopage Lahiru Priyanga