Sep 18
8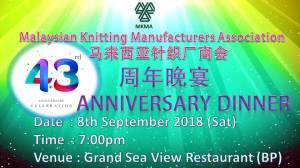 Malaysian Knitting Manufactures Association held its 43rd Anniversary and Building Fund Raising Grand Dinner at 8th Sept 2018 (Sat) @ 7.00pm at Grand Sea View Restaurant (Batu Pahat, Johor)
Mr. Tang Chong Chin said that MKMA was incorporated on 29 Aug 1975 with the objective to strengthen unity among Textile & Apparel Industry players & to protect the interest of the industry.
MKMA has about 130 Membership throughout the whole nation.
In conjunction with 43rd years of anniversary celebration, Mr. Tang present deep dive into past, present and future stage of the association.
Textile and Apparel industry constantly face with the current & contemporary local and global challenges.
1] Transition of Goods & Service Tax (GST) to Sales & Service Tax (SST-V2)
2] Minimum wage and manpower
3] Tremendous increment of Cost of Doing Business in Malaysia
4] Rapid and unprecedented business environment
5] Global trade protectionism versus liberalism
6] Environmental Protection and strict discipline is required
Future Prospect ahead of MKMA:
1] Intensive application of Industry 4.0 to sustain the Textile & Apparel Industries.
2] The combination of Artificial Intelligence (AI) and Human Intelligence (HI) to amplify into Super Intelligence to bring the industries to the next milestone.
3] The revolution of technologies, internet & web has change the landscape of supplier to buyer, Business to Business, Business to consumer & logistic dimension.
Business Outlook of Textile and Apparel (T & A) for the last ten years
Export has been steadily growth by 27% from RM10.50 Billion to RM13.33 Billion for the period of 2008 till 2017. Year 2017 was the peak of the record.


Import has been experienced rapid growth by three fold from RM5.40 Billion to RM16.22 Billion for period of 2008 till 2017. The peak is at 2016 @ RM16.4B.
Let us work together as a TEAM – Together Everybody Achieve More, and look forward for the greater success for the industries.
In year 2000, MKMA spent RM320,000 to purchase the present building situated at 12-1, Jalan Megat, 83000 Batu Pahat, Johor and setup the national office. Unfortunately, the building is encountering land sinking and subsequent wall cracking problems due to nearby river bed drainage. In this regard, during AGM 2017 had resolved to dispose existing building and purchase a new building for office usage and a Building Management Committee was formed accordingly.
After serious consideration, the Executive Committee Meeting held on 14 April 2018 resolved to purchase a three storey building located at 13, Jalan Penjaja, 83000 Batu Pahat, Johor at RM650,000. The building is conveniently situated at town area, well maintain and deem prospectus as similar buildings at a project opposite the building is selling at RM1.2 million.
As MKMA are unable to dispose the existing building yet, it was resolved to raise for building fund of RM650,000. With estimated lawyer's fee, stamping duty and renovation cost to be at around RM200,000. Ultimately total cost at about RM850,000. Thus, MKMA urge members and business partners to generously contribute and donate to our building fund.
Mr. Tang expressed "A big thank you to our long established members, business partners & friends in supporting and sponsoring towards the grand dinner and building fund collection. Your contributions would definitely inspire and motivate the commitment of the EXCO towards serving the association and member".
United Sweethearts Garment Sdn Bhd had contributed RM20,000.00 to MKMA building Fund.
MKMA collected RM180,000.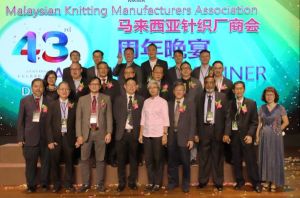 More detail on newspaper articles can be view here:
1.Nanyang – MTMA 43 Anniversary
2.Nanyang – Textile & Apparel Export Increase 27% in 10 years
3. Guangming – Export hit 13.3 Million
4.Sinchew – 13.3 Million Export