Oct 11
6
During the month of Kartik (late September and early October), Nepalese people celebrate the biggest festival of the year, Dashain.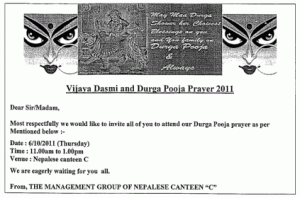 Dashain is the longest and the most auspicious festival in the Nepalese annual calendar, celebrated by Nepalese of all caste and creed throughout the country. The fifteen days of celebration occurs during the bright lunar fortnight ending on the day of the full moon.
In preparation of Dashain, Nepalese employees in USG gathers to clean and beautifully decorated hostel, canteen and living rooms for worshipping goddess Durgato so that she will bless the place with good fortune.
In the tenth day, Vijaya Dashami, United Sweethearts Garment Sdn Bhd had called 6th October 2011 as off day to allow Nepalese employees celebrate this festival.
Nepalese employees wear new clothes, gather as well as pray to God or Durga the goddess of victory and as well as eat delicious foods. Younger employees take Tika and Jamara from the elders employees and receive their blessing.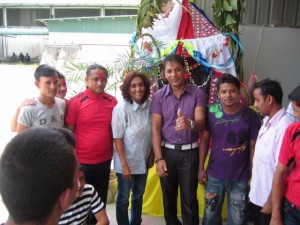 The Management Group of Nepalese Canteen C had organized a Vijaya Dasmi and Durga Pooja Prayer and invite all the staff to attend the prayer on 11.00am to 1.00pm.
After praying for Durga Pooja, the guests are served with Nepalese Foods. Chhatra Bahadur Darji and others also entertained the guest with Hindi Dance.