Aug 17
24
A fire drill was conducted on Thursday 24th August 2017 at Sg Bakap Factory. The emergency system (fire alarm) was activated around 8:30am without notification except the Emergency Rescue Team (ERT) members. It was assumed that the cause of the fire at warehouse. The entire employee were evacuated through their nearest exits and gathered at emergency assembly point.
All ERT members monitored the situation and guide the workers to move fast towards assemble point via nearest exit door.
As soon as all employees dispersed and gathered at assemble point, all HODS update their respective departments' headcounts to Safety Officer. Assume that one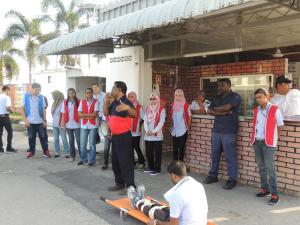 person from cutting department was missing and with the help of Fire Fighting Team, lead by Mr Thanabalan, the victim was found unconscious at cutting walkaway. He was immediately brought to assemble area and given first aid as he was injured on his leg and hand.
The fire drill was conducted successfully to office and production area. The time keeper has recorded duration of 2 minutes when the last person stepped into the assemble area.